The love of wine
TRADITION CONTINUED
We are not only restaurateurs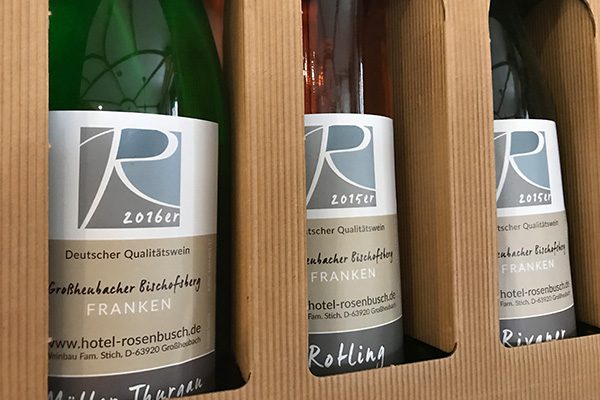 We are also winegrowers.
Our family has been growing wine for over 70 years.
We keep it the same way as with our Hotel & Restaurant. Better small and fine.
We manage 16 a area. Our grapes thrive in Großheubach, in a wonderful location, on a red sandstone soil. We care for them with a lot of love and then read them at the end of September. The result is quality wines that make us proud – Müller Thurgau, Rivaner and Rotling. And as long as you can't drink them on the Internet, you have to come by us… or we will come to you?
Wine. Culture. Country. Churfranken.
We only offer regional wines from local winegrowers on our menu. As a little leisure time tip, we recommend that you visit these winegrowers during their hacking season. During this period, the winegrower offers his wines and rustic dishes in the cellar, courtyard and dining room. It is part of the cultural programme to have a look there. Attention, this is no place for alienation. Getting in touch with other people is clearly desirable here. Sitting alone at the table is rare. Sit down where there is room and take part in the village talk.
Feel the Franconian way of life.